Why AR Portable Cabins (I) Pvt Ltd?
AR Portable Cabins India Pvt Ltd. is an emerging and renowned name in the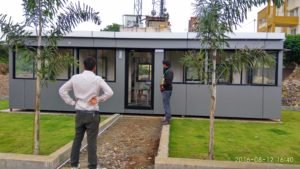 portable cabin manufacturer and supplier in South India, Stainless Steel of modular prefab building structure structures in Karnataka and Hyderabad, engaged in presenting excellent quality of All kind of Structure & Portable Structures in South India & throughout the India,
All type Prefab & Prefabricated portable cabins in Bangalore & Hyderabad & Prefab portable Houses in Bangalore and Hyderabad. We have realized our goal of customer happiness with our product line, which includes aesthetically pleasing prefabricated structures, temporary office cabins, security cabins, portable toilets and portable shelters.
We provide high-quality raw materials for our goods, which our clients appreciate for their innovative and distinctive superior design, corrosion resistance, portability, durability, and premium finishing that lasts longer than before.
We not only bring our clients insight and unconventional thinking to help formulate strategies and respond to change – When we design, we keep our client and their interest in mind.
We are one of the leading manufacturers & suppliers of quality portable cabins, portable office cabins, security cabins, container homes, portable toilet and many more. We are one of the best choice for many Government and Private organizations for the best quality services.
What Our Customers Say, About Us!
We collect reviews from our users so you can get an honest opinion of what an experience with our work are really like!
Best product, service & quality I've ever seen. Thank you AR PORTABLE CABINS (I) Pvt Ltd For making my farm house so beautiful & Comfortable...
Well experienced company with professional and well maintained staff. Perfectly delivered with very good quality of work..
Very high Quality Cabin with excellent finishing. Highly recommend this company for all the cabin needs .
Best product, service & in high quality they do good job at in time . Thank you AR PORTABLE CABINS (I) Pvt Ltd For my company setup & Comfortable..thank you ...all the best...